Smartbooks is the trade name of Boekverkopers.com B.V., an entity dedicated exclusively to selling textbooks to study associations.
Many study associations offer the possibility to buy study books at a discount. Perhaps your association is already doing the same. Smartbooks specializes in selling study books to study associations. We are a small, but growing organization that collaborates with more than 45 study associations. So maybe not that small. Last year we sent 40,000 packages and brought countless books to the association's location. We do this with great success and to the full satisfaction of the associations and its members.

Perhaps cooperation with Smartbooks is also something for your association? Below we have listed our strengths.
Manual checking of the reading lists
Smartbooks compiles the reading lists in close cooperation with the study association and the university. Each title is checked by us, in particular for fast availability. If Smartbooks has doubts about the availability or edition, Smartbooks will contact the teacher. Thanks to this extensive check, Smartbooks delivers the right book on time.
Bilingual personalized website
For every study association that joins Smartbooks, we create their own website with an integrated webshop. As an association you can supply texts and photos yourself, but we usually do this together in consultation. We offer a responsive website that works on any device, a PC, tablet or phone.

Both the website and the email communication regarding orders are in Dutch or English, depending on which language you choose when placing your order.

As a study association, you enter into a partnership with Smartbooks. This means that members order from the web shop of their own association, but the handling is entirely taken care of by Smartbooks. Questions about orders and delivery all end up with Smartbooks. We provide a quick answer and solution. The study association is completely unburdened.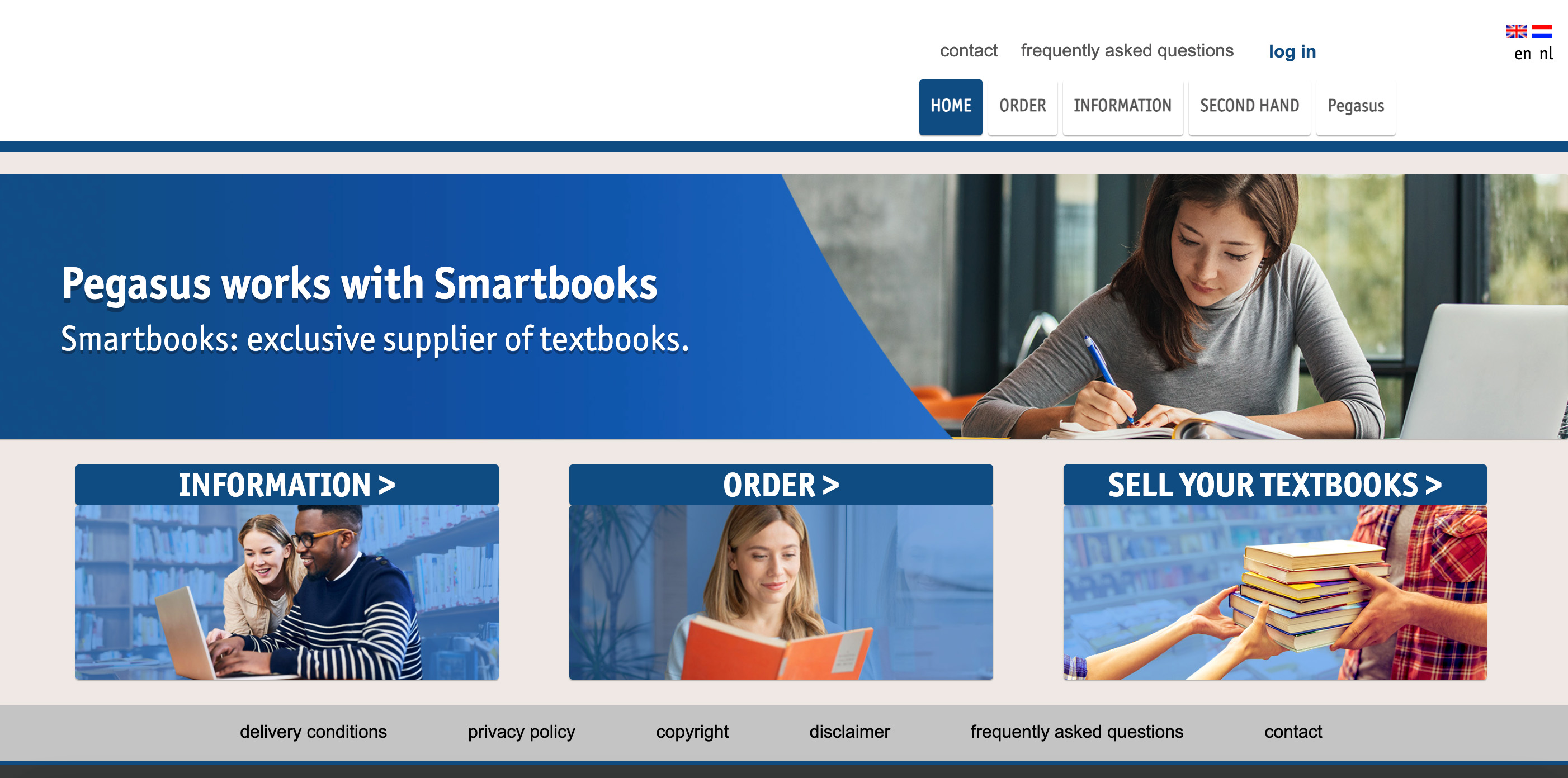 In addition to fast delivery, the price for the student is of course very important. At Smartbooks we always strive to be cheaper than Bol.com or Amazon.nl. We almost always succeed because we compare the price per title with the competition. When placing the order, you as a member immediately see what your benefit is.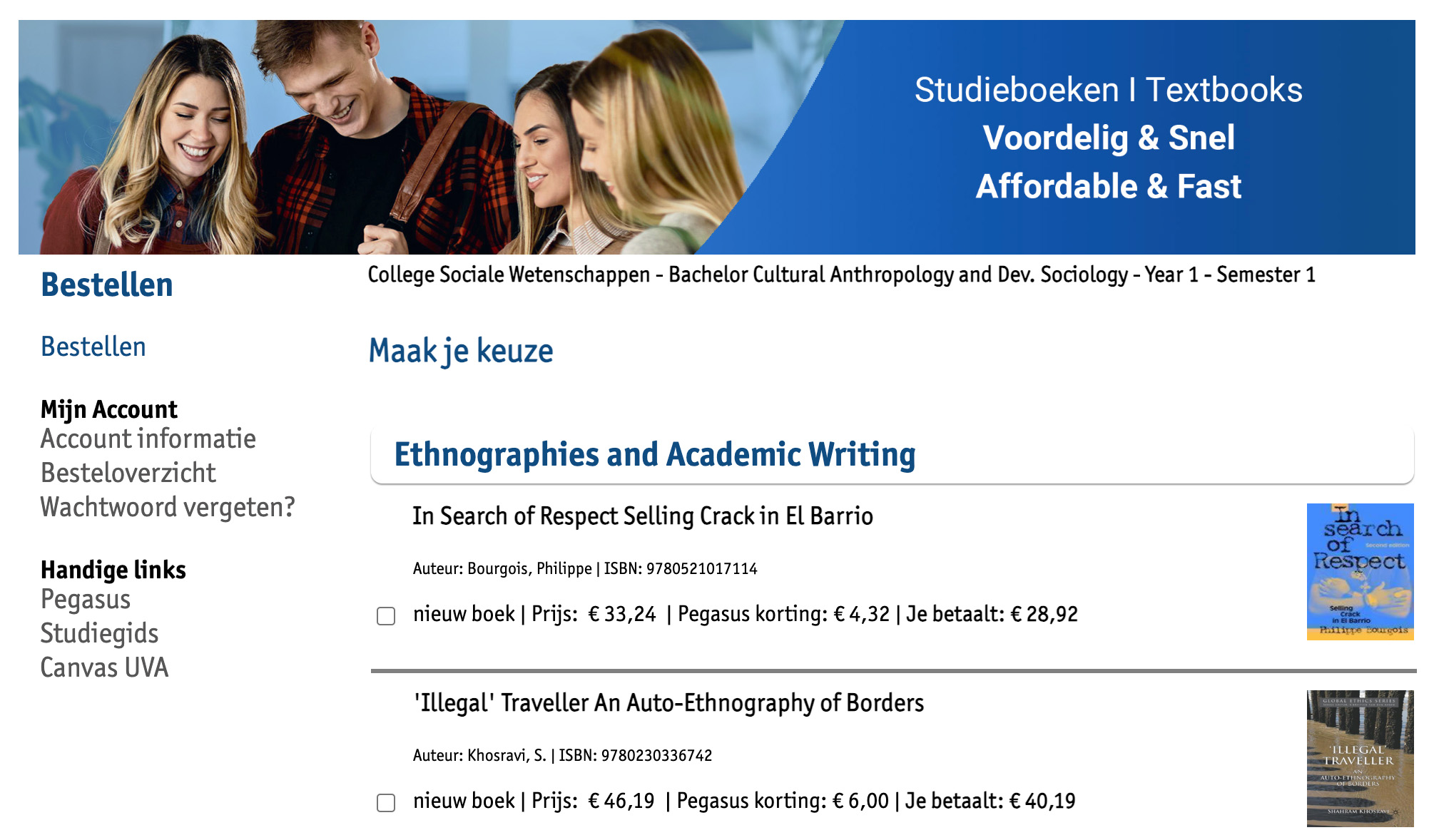 Not good, money back guarantee
Smartbooks compiles the reading lists using information from teachers, the study guide and instructions from the study association. For teachers, we have a convenient fill-in form on this site. There, a teacher can enter all the information about which book will be used, and not unimportantly, what percentage of the book will be studied. The information we get from teachers we link back to them when we see that a book is no longer available, a new edition is coming out or anything else that is important for the teacher to know. Should it be the case that a teacher still decides not to use the book at the start of the lecture, we will take back all books delivered by members. Good service isn't it?!

At Smartbooks we prefer to present the reading lists by semester. It is unnecessarily expensive to purchase books for a whole year. And often there are changes in the reading lists during the academic year.
Boekverkopers.com B.V. sells books in accordance with the provisions laid down in the Fixed Book Price Act (2005). In consultation, a bonus scheme is possible for each study association based on the total sale of foreign-language textbooks. When determining the amount of the bonus, a permanently competitive price for the members is the starting point for Boekverkopers.com B.V.
Second-hand collection and sale of textbooks
If you have passed the exam, you would like to sell your textbooks. Smartbooks offers a perfect solution for this. Study associations often organize a collection period for second-hand books twice per academic year. Everything in collaboration with Smartbooks.

As a member, you enter the ISBN number online, choose the condition of the book, has it been used or used intensively, and enter your details. The system checks whether the book is still being used and you are immediately shown a price. Smartbooks collects the books from the association and offers them for sale on the website of their own study association. It's always a great success. You will receive your money directly into your bank account when your book is sold. Because we know which books will be used again, we offer an excellent price for your second-hand books.
Inspection Copies for teachers
Smartbooks offers lecturers affiliated with the study program of your study association the opportunity to request a 'teacher copy' of a book. This can be a copy of the book that the teacher prescribes now, but also of a book that the teacher may want to use for a series of lectures in the future. Smartbooks submits the application and ensures that a free copy is sent to them. All the teacher has to do is to fill in the form on this site completely.
Possibility to sell on location
Almost all members buy their books online. But there are still many associations that like to sell the books on location at the beginning of a semester, and certainly at the beginning of the academic year for first-year members. It is an great way for an association to get in touch with new members. As an association you can also choose for members to collect the books from the association. At the start of their studies, (foreign) students often do not yet have a permanent place in the city where they are studying. They can have the books delivered to the association, which is very easy, of course. We are happy to discuss with your association whether these options are interesting.
Payment facility for membership fees
Boekverkopers.com B.V. can charge the membership fee of your association directly with the order. When ordering you indicate whether you are a member or not. Choose 'No' and you will see a message indicating that you would like to become a member and that you give permission for the membership fee to be charged immediately. The study association receives notification of the new membership by email and handles the further formalities. We periodically send an overview of the new members and transfer the total membership fees to the association.
Short-term flexible contracts
At Smartbooks we believe much more in long-term cooperation than long-term contracts. That is why we like to agree short-term contracts that we evaluate twice a year. If you are not satisfied, we look for a solution and do not point to the small print. In this way we have been working with almost all associations for more than 30 years.
Do you want to know more about Smartbooks? Do you think, maybe Smartbooks are also something for our study association? Then get in touch with us. As an expert and motivated team, we are ready to tell you more about Smartbooks. We can do that online or at your campus. Send us a message and we will contact you shortly.
Thanks in advance for your response!
Pier Rienks
(prienks@smartbooks.nl)
Simone Hollander
(shollander@smartbooks.nl)